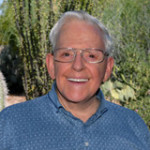 Rev. John W. Adams is a Unity Minister, ordained in June, 1966 by Lowell Fillmore, son of the founders of Unity School of Christianity, Charles and Myrtle Fillmore. He also studied at the Science of Mind Institute in Los Angeles, the writings and teachings of Dr. Emmet Fox and other noted metaphysical teachers.  He lives in Phoenix, AZ.
Unity In The Olympics Church in Port Angeles, Washington was founded in 1967 by Rev. John. He has facilitated numerous classes, workshops and seminars in metaphysical churches in the US and Canada.
He is the founder and director of Golden Key Ministry-Unity, established in 1974, a worldwide healing prayer ministry by mail and the Internet. Rev. John is the author of eleven self-help and prosperity printed books and 7 e-books. Visit our Book Store.
Rev. John has dedicated his life to empowering people to live life lovingly, positively, and prosperously as God intends. Through his writings and teachings, and his prayer ministry, he has kept true to this purpose. He believes and lives the truth that: "Love is by far the most important thing of all."
Rev. John is passionate about helping people to Live Life Lovingly, and enjoy the happy, healthy, peaceful and abundant life we are all here to live.  Kindly let us know how we may lovingly serve you.